SAM JONAH LIBRARY ORGANISES WEEK-LONG TRAINING PROGRAMME FOR STAFF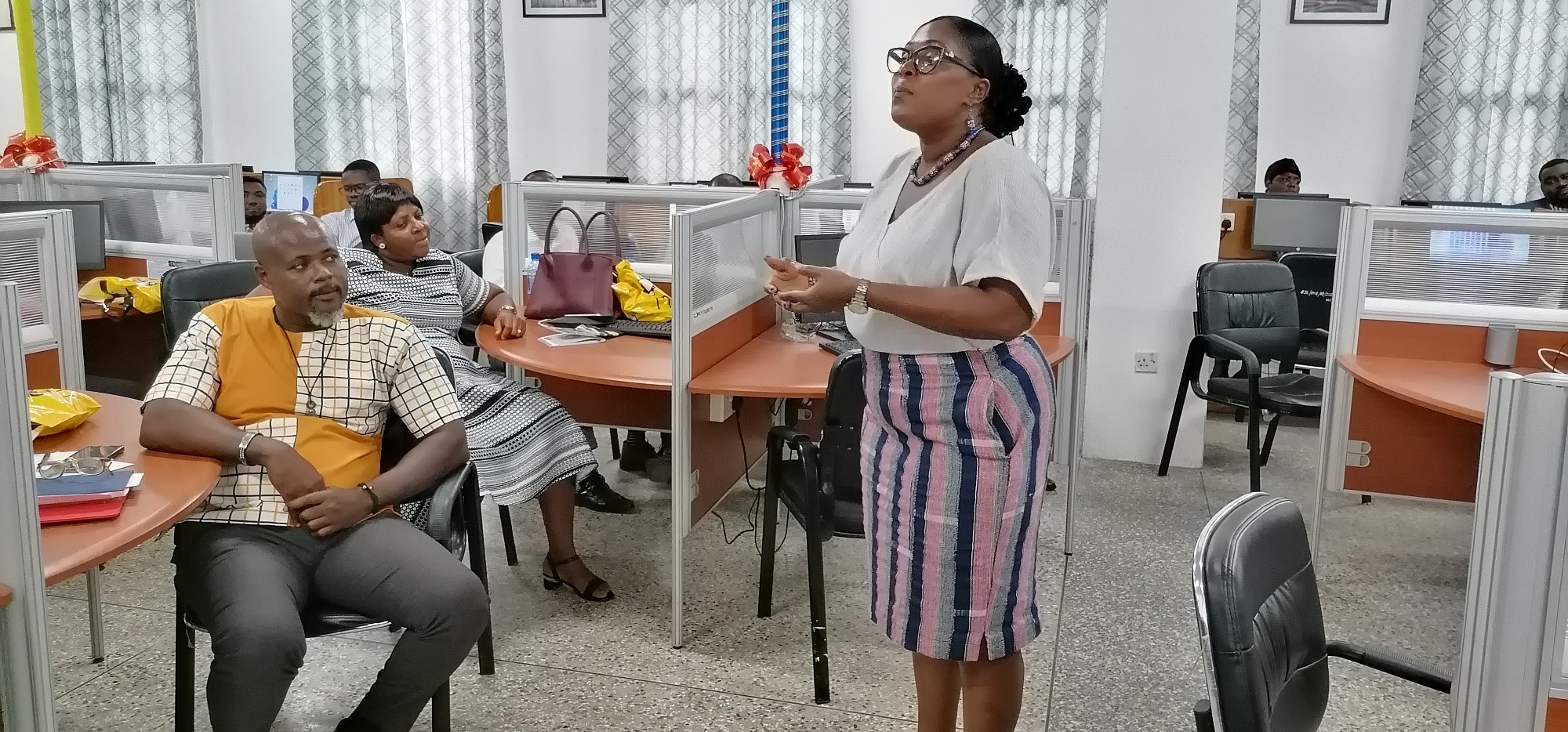 The Sam Jonah Library, University of Cape Coast has organised a week-long training programme from the 27th of June 2022 to the 1st of July for all categories of its staff. The training programme which attracted participants from the Sam Jonah Library and all 31 satellite libraries under the purview of the University of Cape Coast Library System (UCCLS) was the latest instalment of the drive of the library's management to develop and build the capacities of its staff.
Addressing the opening gathering of the training programme, the University Librarian Dr Mac-Anthony Cobblah averred that the training programme was geared at developing high calibre and motivated staff who are innovative and globally competitive as dictated by University of Cape Coast's Strategic Plan 2018-2022. He further spurred participants to take advantage of the ensuing proceedings to sharpen their competencies regarding emerging trends and topical issues and in librarianship and information science.
The ensuing five days saw participants being engaged by astute facilitators and resource persons from within the University community and beyond. Notable among the facilitators and resource persons were Prof. F.A. Katsriku (University of Ghana), Prof. Dorcas Obiri-Yeboah (DRIC-UCC), Dr Mac-Anthony Cobblah (UCCLS), Dr James Prah (DUHS-UCC), Dr. Mavis S. Benneh Mensah, Mr. Abednego Corletey (AAU) and Mr. Osman Imoro (UCCLS). The training sessions were undertaken in a largely interactive manner with participants engaged through Q&As, brainstorming sessions and group discussions and presentations. Participants were educated on a wide range of issues such as Emergency and First Aid administration, management and usage of the Acquisitions and Serials modules of the KOHA Integrated Library System, Open Science and Open Access, Institutional Repository management and digitisation, E-Resources management, Advocacy, Lobbying and Negotiations, Artificial Intelligence in relation to library management and Information professionals and Entrepreneurship.
Drawing the curtains on the programme, the University Librarian thanked resource persons and participants for their scholarship and comportment respectively. He charged the participants to put the knowledge garnered from the training programme to good use and bring it to bear on their mandates. He further encouraged participants to take a personal interest in their professional development by looking out for training opportunities and enrolling and assured them of the Library's support in this regard.     
Authored by Eugene Baah Yeboah